Brand
Completed:
November, 2018
The Lucas County Land Bank has a great story to tell. Working hard to rebuild neighborhoods and improve property values from the ground up, it's clear the Land Bank is making a difference.
We started with brand strategy. Refinements and additions to the Land Bank brand gave us options and better aligned its image with the story it needed to tell. Once we had a foundation in place, we got to work on crafting and delivering the message.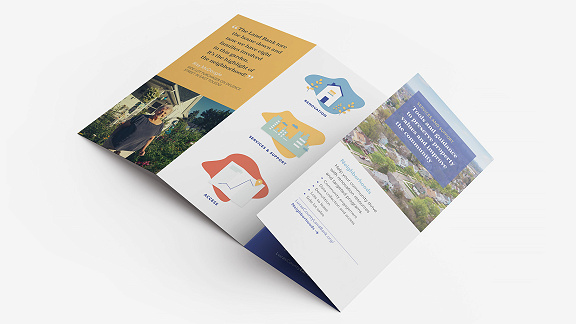 Website
Completed:
April, 2019
As we gained a better understanding of who the Land Bank was trying to reach and what its role in the community is, our focus turned to creating useful online experiences for each audience. We designed a clear and simple navigation system which we paired with friendly animations, a consistent color palette and great photography to illustrate the Land Bank's breadth and depth of capability as well as its positive impact on Lucas County.
Photography
Completed:
August, 2018
Extending the brand into the community means celebrating the neighborhoods that give Toledo its distinct character. We set out to photograph neighborhoods throughout the city, highlighting the historical architecture, colorful gardens, and many tree-lined streets — resulting in original photography assets that can be put to good use in various collateral.
Toledo Survey Booklet
Completed:
April, 2022
One of the great pleasures of working with the Lucas County Land Bank is having the opportunity to work on meaningful projects that impact our community. We collaborated with them on creating the 2021 neighborhood report by helping to visualize the mass of data they collected in their survey work for a printed booklet and presentation. The Land Bank says, "what gets measured gets dealt with" and it was our job to ensure the data was clear, visually compelling, and actionable —– making data approachable and accessible was key.